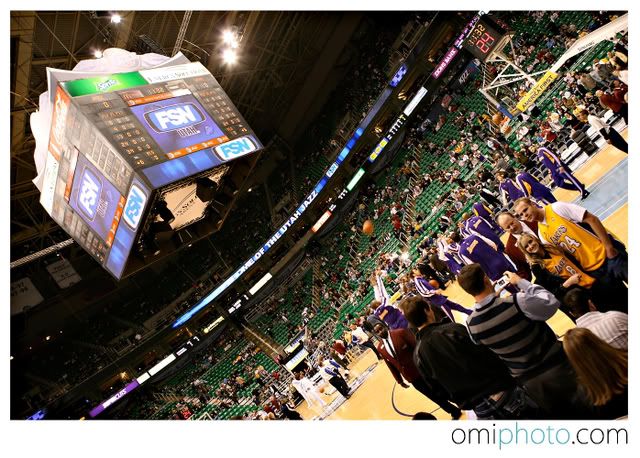 As some of you know my husband's company gave him a few court-side tickets to the
Lakers
vs. Jazz game last night. I came along to see all the action. No....I'm not going to lie, I came along for the VIP members only buffet, but got a second helping of action to boot.
Apparently, there is an elevator that takes you to the lower levels of the stadium where people stuff their faces with prime rib before, during and after the game. WHO KNEW??!
President Thomas S.
Monson
, happened upon our happy group while in the elevator. I have to say I was quite surprised. It was like seeing your 2
nd
grade teacher at the grocery store. Totally appropriate, just a little unexpected. I overheard a guy next to me mumble to the beer in his hand, "I'm such an idiot?" lol!!
The game was amazing. Jazz won on a clutch three point. I nearly died getting pushed over the row of seats
in front
of me due to a shoving match that broke out and
dominoed
down. Seriously,
Maile
and
Oto
...you guys saved my life. All I can say is that when I got back on my feet I was just glad all eyes were on the fight and the only people who saw me go over were the two that caught me from falling. Hey...y'all know NOW..., but at least no one SAW it. It was ugly! The kind of ugly people don't forget!
I'm coming down with a heavy cold, and I've got to get to bed! Ny-quil take me away!