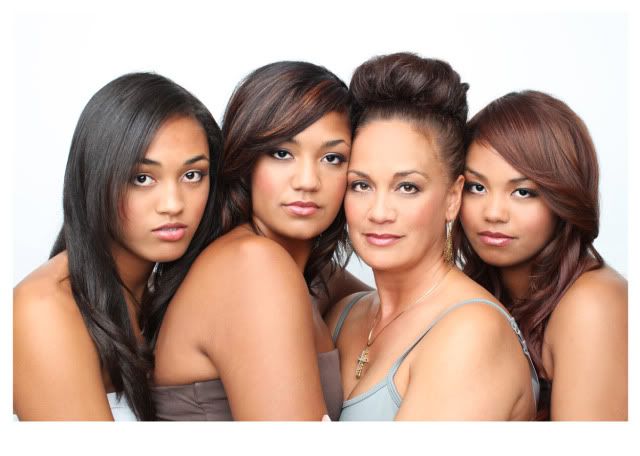 A whole day of dressing up and make up... is my kind of day. We (Aubrey, Nick and I) hauled our ever growing equipment into one of the board rooms of the Karl Malone Dealership the night before the shoot. We tested all the lights...because I still get so nervous and I've had my fair share of problems to know better. It just so happened the main wire that triggers my strobe wasn't working. Aubrey and I were sitting on the floor in Mr. Malone's office in the middle of 20 wires trying to connect the right cables, and find a replacement (which we didn't). We kept laughing at how we would look to an outsider, or worse the actual owner of the office we had hijacked.
Gratefully the following day was flawless. I can't say enough good about this family...and especially these gorgeous women!!! I enjoy every time we've had the opportunity to meet and feel sad every time we wrap up our fun. They are classy, beautiful, kind and considerate. Oh...did I mention BEAUTIFUL!!
A million thanks to my team. Aubrey for EVERYTHING......like wearing her flat shoes, and letting me wear my fancy heals, and climbing 3 times over the fence when it rained, and 20 times up the stairs....AND holding that heavy !@# strobe in the thorn field. The talented Janae and Angel were in amazing form on hair and make up. I NEVER have to worry about anything with these two in my corner! LOVE YOU GIRLS!
I've given up trying to explain why I can't keep my blog up to date. I DO have my reasons, and MOST of them, if not all of them come down to maintaining the sanity and the balance in my life. Over the last few months I've been dedicated to the greater YES in my life. That means better work, better time with my kids, better life with my amazing husband, better sleep, better health. A BETTER ME. In the end I'm the only one who can do this for myself, so I DO IT! I feel like I've come light years from where I was just a few months ago. More about that later! Just want to put this out there....I'm so happy and work is going great! Thank you all for checking in and have a great day!