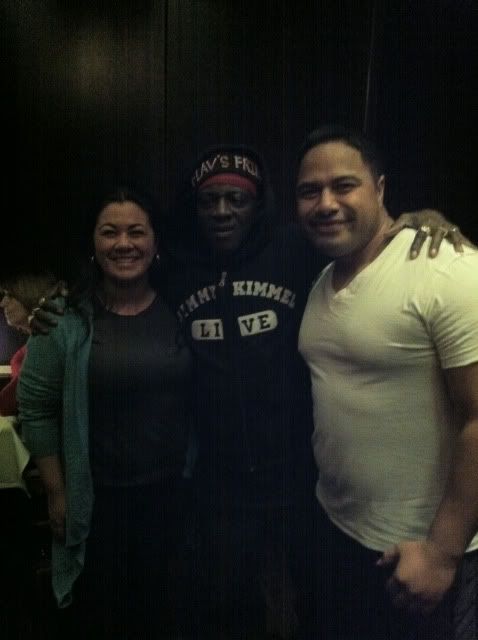 Me, Flava Flave, Nick on my birthday at Ruth's Chris
(funny story...nick bought the white v-neck because he was feeling slim!!)
me: 165lbs Flava: 98lbs (lol) Nick: 286lbs
I've been wanting to do this post for some time now. I was waiting for two reasons: 1) I wanted to lose a little more weight and 2) I wanted to do a shoot to show the transformation (these phone pictures will have to do....and might even seem more believable.)
Losing weight for some is EASY and they are able to be open about their efforts. For those of you like me....It's anything BUT easy and you'd rather people think you are perfectly happy with the way you look...(even though you are NOT. NOT. NOT), than toil publicly week after week without results. Last February I ran into a good friend of mine. She looked SPECTACULAR! Having been on a crusade to get to 134lbs by my 34th birthday, I had been in the gym two hours a day for weeks. I have to say...I did lose 4 measly pounds in that time. SO the efforts weren't absolutely useless BUT I still felt tired worn out and FRUSTRATED. This friend of mine looked AMAZING. She was 20lbs less than she was in High School...and that was after 4 kids. Her eyes and skin glowed and I was speechless, not to mention a little enviouse....did I say little ...I mean A LOT envious. She told me she was using Isagenix which you can only purchase from a sponsor who distributes the product. I was VERY skeptical mostly because I didn't want to FAIL at weight loss...AGAIN, and I didn't want to be the sucker to another weight loss promise! I needed hope and needless to say she became my first glimmer. A few months later after endless obsessing and researching about ISAGENIX, I broke down and forced myself to call her and she EXCITEDLY explained everything.
nick's before:
286lbs May 2011
Nick's after:
(3months):220 July 2011
My before:
165 April 2011
HEAVEN HELP ME FOR SHOWING THIS PICTURE!!
The products, the positive changes beyond the weight and "THE GAME".
ISAGAMEON
is a team played completion that keeps you accountable and gives the most incredible support you can imagine. She honestly recommended it with her WHOLE SOUL, which I thought was a little heavy, but I completely agree with her now!! I couldn't have done it with out the game. I'm obsessed with the two week challenge that allows me to be competitive, supportive (and win $100 for every player if your team wins), and it only cost you: commitment and effort!! I started on the program and saw immediate changes. I was losing weight, BUT more importantly I started feeling BETTER. It was like a light came on inside of me. My moodiness was gone. My sluggish tiredness that I've dealt with since I was pregnant with Haven 8 years ago was gone. POOF! It was nothing short of a miracle. I started the first week in April. A month later my husband joined me with my best friend Tina. My husband who loses (and gains) weight faster than a melting popsicle saw that I was having success...ME...who NEVER loses a single pound was down an easy 10 after two weeks and of course he blew all my efforts away. BOTTOM LINE I started at 165 and in two months I was at my goal weight of 134. We went on a cruise to the Mexican Riviera and gained 10 lbs each. (IT WAS WORTH IT!)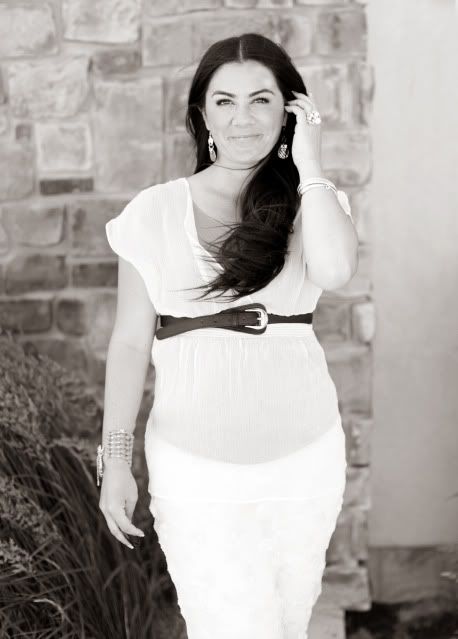 Me: after the cruise @ my impossible goal weight of 134
Came home and jumped back on and the weight from the cruise came right back off taking a few extra pounds with it. By the end of July we were both at our high school weights. I was at an unbelievable 123lbs, and nick was just under 220lbs.
Me: 123 size 3 dress July 2011 WOOHOOOO!
(when I was 123 in high school I never fit a size 3)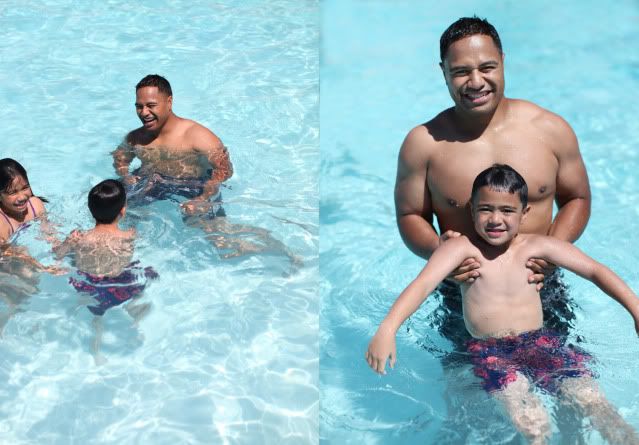 Now, I know I'm starting to sound like an infomercial! But, my life has been changed. I believe in things I never imagined possible for myself. It's not just the product, but the support. Was it the easiest thing I've ever done? NO.....but it was far from the hardest either. It took discipline and it's not for everyone but if you are at the point that you don't think anything will work and your are willing to give 100% ...THIS IS FOR YOU...and it WILL WORK!! It was easy in that it produced results every week as long as I was honest with my efforts, and when you see progress like that it's easier to stay committed. The results are in weight loss, in inches you melt off and in how GOOD you feel while you do it!
SO the VERY EXCITING NEWS??? As I started feeling better physically and emotionally from eating right and losing weight I was able to let go of the fear of going through another hard pregnancy. In August we decided we were going to start trying to get pregnant with our 4th! Not to sound vain, but my biggest reason for not getting pregnant was the horror of gaining another 25lbs that I knew wouldn't come off in 9 months (or in 4 years for that matter). Little did I know we were already expecting!! So here I am in my 4th month of pregnancy, in good health, and feeling wonderful! yeay!!! I've just gotten over the tiredness of the first trimester and am ready to really get back to my work out and stay fit and strong through the pregnancy! WE ARE SO THRILLED about the baby! We are not planning to find out if it's a boy or a girl....but who knows, curiosity might get the best of me!!!
Nick and I at the Brian Mcknight Concert: end of July...
Considering the extreme romance...pregnancy may or may not have resulted! LOL
Baby Masina #4
If you have any questions, I have an amazing Isagenix cleansing and health coach that has helped me with all my questions and she can help you too! Her name is Angel Naivalu (435)313-0809 angelinparadise17@yahoo.com. She is beyond incredible. She is one of the founders of the ISAGAMEON game and a total inspiration to me. You can also call me anytime (
801-949-6365
omi@omiphoto.com
or nick
801-949-3687 )
if you want to know anything else!
There are two things that you should know upfront: The 30 day program costs about $280.00 and the way we played we added an additional product to get the most out of our games. You can play two games with the month of product. The estimated total product cost is roughly $348.00 if you want to play intensely like we did, other wise it's about $280. The product covers two meals a day and all your supplementation. It's all about nutrition and cleansing. Nick and I actually saved money because we stopped eating out as much. You'll have shipping and taxes and a one time wholesale account fee for the year of membership on top of that. The other item is that the company is a network marketing company. They offer referral commissions to their associates so you can make money that can help pay for your product. In the beginning I didn't think I would use it, need it, or want it. I'm happy to say I was wrong. It's been an awesome little benefit! Oh and ONE MORE THING....If you are going to use the product PLAY THE GAME!!! PLAY THE GAME yourIsagameON.com!
Like I said this IS NOT for everyone but it should be! I can say nothing bad about the whole experience. We've had friends and family join us and
everyone
has had success in an amazing way! Now that I'm pregnant I'm still playing the game and using the Isagenix product. I follow a special program for nursing and pregnant women. It's helping me keep my energy up and it helps me stay healthy and accountable. Hopefully it will keep me from putting on any unnecessary weight, but I'm not worried about the gain, now that I KNOW how to get it off!!